There are two different models of Firechat that you can access from the main interface. Each one is a global chat that allows you chat with about 80 randomly chosen users from the same country, and needs an Internet connection. Nearby is just the local, off-the-grid messaging alternative.
Firechat for iOS and Android
The range for the off-the-grid messaging is quite different according to the platform. It is always 100 feet for iOS and 39 feet for Android.
Nevertheless, the Android version supports multi-hop network of Open Garden, therefore the range will increase with the number of users utilizing the app.
You can send both text and images to other users with Firechat, just like most messaging apps, even though it looks as if Android version doesn't have support for sending images yet.
It also comes with a Settings screen that is accessible from the upper right corner of the interface in the Android version of the app.
You can choose whether you get notifications or Nearby messages, you can change your display name and Tell a Friend that opens up the standard Android share with friends menu.
Share Option on the chat screen performs the same function.
Download Firechat for Android
Download Firechat for iOS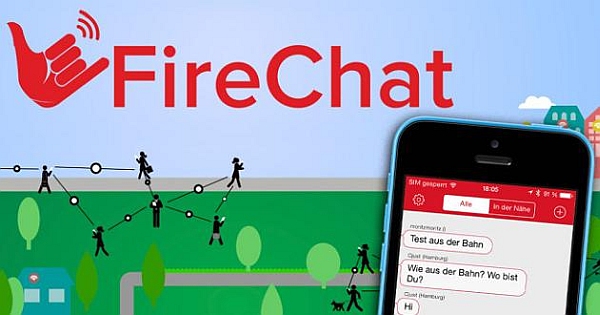 Featured Posts about Messaging & Tech News