Mobile usage and apps have gained popularity in South Africa. Whether you are using an android, iOS, Windows Phone 8, Blackberry, or a desktop PCs, these apps are widely used for international communication, official communication, social networking, and entertainment among others.
The growth of cheap internet connections and services has led to increased usage of the instant messaging apps at the expense of the SMS text messaging app that is built-in smartphones. Most of these apps are free to download and only internet connection for them to be used. Thus, you can send photos, texts, stickers, short videos, and makes voice calls without using the carrier chargers. The following are the top five apps that are widely used in South Africa for instant messaging.
Whatsapp
The Whatsapp application is widely used across the world. This is a cross-platform mobile messaging application, which allows its users to exchange messages without paying for the carrier fees. Facebook acquired this app earlier last year. Currently, more than 11 million South African adults use this app for social networking, fun, formal communication, and entertainment on their smartphones. The app is widely used in urban areas in the country when compared to rural areas usage.
Mxit
The South African Mxit instant messaging app was developed by Mxit (Pty) Limited. This app is currently running on over eight thousand devices in the world. It is supported by devices like tablets, Windows Phones, iPads, iPhones, Blackberry, and Androids among others. Over six million South Africans are using this app currently.
WeChat
WeChat messenger is a Chine based app but has received a massive usage in South Africa. This app was developed by Tencent- a Chinese company. The app is available for Symbian phones, Windows phones, Blackberry, iPhone, and Android. Over five million active users of this app are based in South Africa.
Blackberry Messenger
The BlackBerry Messenger is also referred to as BBM. This is a proprietary internet-based video telephony and Pin instant Messenger app that is also in-built in the BlackBerry devices. The app allows voice calls and messaging amid Android, Windows Phone, iOS, and BlackBerry users. South Africa is among the world highest user of BBM, whereby it has got over 4.7 million active BBM users.
Facebook Messenger
The Facebook Messenger is widely used in the world. This is a software application and instant messaging service that allows for voice and text communication. The app lets the Facebook users to interact by chatting from both the main website and mobile. Over 11 million people use the Facebook Messenger actively in South Africa.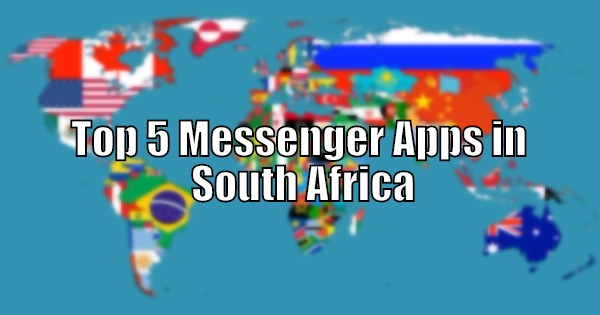 Featured Posts about Messaging & Tech News