MeetMe is such a social discovery service dedicated to making meeting people fun with social apps and games. Signing up to use this service is simple; creating a profile is a speedy process, while interaction with other users is quite entertaining. Using MeetMe feels like funny diversion, but using more conventional dating sites can sometimes feel like unpleasant task. The best of MeetMe app is that it is completely free!
New members who want to join the platform can register with their email addresses or sign up with their Facebook accounts. Only your basic information is required for this purpose. Upon registration, you are given an option to add a profile photo and follow other users very close to your location. As a member, you can customize your profile links or add more detailed information to your profile. Additional customization is available through layouts and stickers that can be bought with virtual currency, Lunch Money of the site.
Teens who want to use MeetMe app must have attained the age of 13 and must be in high school before he/she can sign up for this app. Once this requirement is met, the interested teens can sign up, use credits or their lunch money to do things like putting their profile at the top of the homepage as a spotlight for others to see at a glance; to increase the number of secret admirers they get; to get priority in match; and play online games. In a nutshell, a great deal of the communication has flirty connotations.
The main focus of the MeetMe app is to help users find new people to chat with on mobile devices. About 80 percent of the MeetMe traffic emanates from mobile. The MeetMe service boasts over one million total daily active users. It is FREE, friendly, and fun!
Positive Features of MeetMe App
Users can send and receive messages from all members, irrespective of their subscription status.
It is free to join and without advertisements.
Sndroid and iOS apps available in addition to the website.
Games provide an engaging, fun and unique approach to meeting new people.
Negative Features of MeetMe
Search options are somewhat limited, due to the fact that the profile does not contain very detailed information.
Mobile app have ads and does not have a search function.
The Profile information is somewhat basic and doesn't give the chance to get to understand people on a deeper level.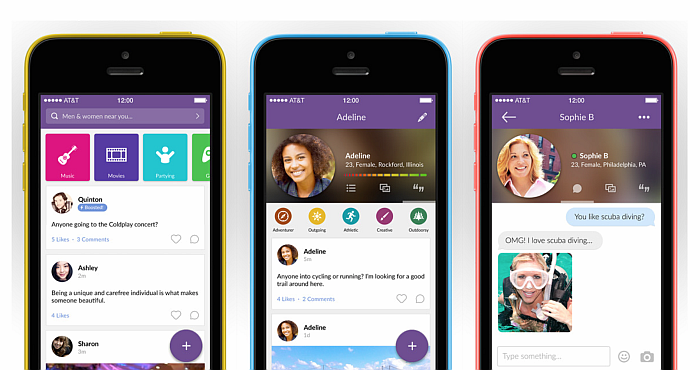 Featured Posts about Messaging & Tech News