For decades, The most popular operating system was Windows. Linux and Mac OS is not so popular OS in the market yet. But we can't talk only about PCs, we have to talk about smartphones and tablet. According to a web-analysis in March 2017 by the company StatCounter, Windows's top position has taken down by Android. Now Android is the most popular OS in the market.
The thing which is notable is that Android is not so ahead of Windows, they won with only a small margin. According to the reports, the market share of Android is 37.93% while Windows have 37.91% market share.
From 2012, Windows OS position is dropping while Linux-based Android getting more popularity. In some days we believe that the market share of Android will hit the sky.
Aodhan Cullen, CEO of StatCounter said that "this is a big achievement for the Android". Microsoft lost its leadership worldwide in the OS market which they were holding from 1980s. This also so great progress for Android which had only 2.4% of Internet usage share globally 5 years ago.
According to StatCounter, the reason for this achievement is the increment of smartphone and decrement of PCs in the market.
But StatCounter added a statement that Windows is still the most popular OS in the desktop market.
But can we trust these numbers of StatCounter? The company says that there's results are based on 2.5 million websites which have 15 bilion monthly page views. But we can't totally believe these data because According to the federal government's data, Windows is still the most popular OS in the market.
Android overtakes Windows for first time https://t.co/fZRZzBnqWj

— statcounter (@statcounter) April 3, 2017
Every organization is giving different data. But yes Statcounter's data is based on worldwide users but Federal government's data based on mainly American users.
Another reason for the falling of market share of Windows is that their users are only from PCs because very fewer people use Windows phone.
But PCs will not disappear from the market because no one can think to make a spreadsheet, a PPT on a smartphone. They always need a PC for these stuff.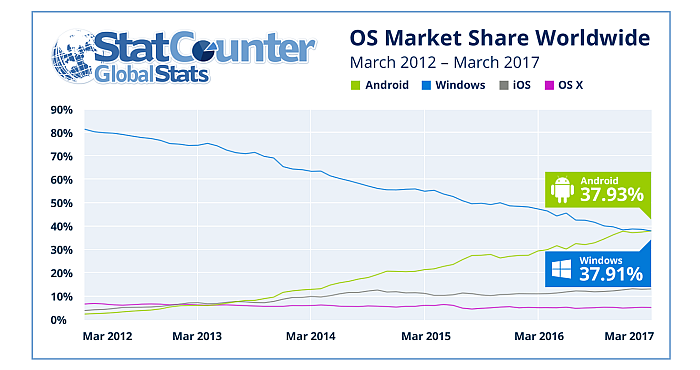 Featured Posts about Messaging & Tech News