The Lumia 550 is going to be launched on the market sometime in November, priced at $139. This is the cheapest Windows 10 smartphone that one can own out there. Reviews done on this phone shows that it is a good pick for anyone looking to either feel the sense of Microsoft functionality deeply. It is also fit to someone looking for a simple, and cheap handset that brings about smartphone connectivity options.
Microsoft Lumia 550 Design
Its face is dominated by the black display panel, decorated with the Microsoft logo and frontal camera above it. It employs virtual buttons. The rear side of the phone has a completely removable cover that houses a camera at the top. Other features embedded on the back are a LED flash, and Windows logo affixed in the center. As for hardware buttons, it has the usual power key and volume rocker. However, it does not have the shutter key.
Microsoft Lumia 550Display
This Lumia phone flaunts a 4.7" LCD with a 720 x 1280 pixel resolution, which all results in a 314 ppi. The screen-to-body ratio covers 65.4% around all sides and protected by Gorilla Glass 3
Processor and memory
It has a 1.1 GHz processor speed. Its quad-core installation and a Qualcomm Snapdragon 210. The memory is paired with an Adreno 304 GPU, and 1 GB of RAM. It's certainly not the best, but it can accomplish basic tasks. It only comes with an 8 GB internal storage that can only accommodate apps and games. It also supports a microSD.
Camera
This Lumia flaunts a 5 MP snapper with an F2.4 aperture for the main cam. Of course, favorable lighting is needed here. It's capable of taking 720p videos at 30 FPS and supports continuous autofocus.
The front camera is a 2 MP snapper – not the most flattering selfie-taker, and the assumption drawn to this is that you'd rather only use it for video calls.
Interface and functionality
Windows has updated Cortana and bringing updates to the settings menu, calendar apps, Microsoft Edge to replace Explorer, and the office suite apps. There also comes different themes, for instance when you wake up the Lumia, you will be greeted by a typical Metro-style interface. The apps appear as actual, resizable, and freely-arrange-able tiles. Some of these can be "live tiles", which means they will scroll through the latest notification from the app they represent.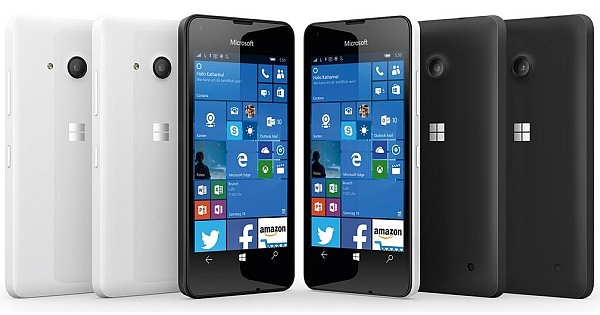 Featured Posts about Messaging & Tech News